PRESS RELEASE
January 22, 2019
Pick My Solar to Showcase Distributed Energy Marketplace at DistribuTECH 2019
Company Demonstrates Ease of Purchasing Solar and Energy Storage for Consumers through its Nationwide Marketplace
LOS ANGELES, CA and NEW ORLEANS, LA – Jan. 21st, 2019 — Pick My Solar is showcasing their consumer-facing solar marketplace for utilities at DistribuTECH 2019. The company will demonstrate how their managed marketplace with over 100 vetted local installers creates competition that ensures customers receive the most cost-effective quotes available, as recently confirmed by the National Renewable Energy Lab. DistribuTECH 2019 is taking place February 4th – 7th at the Ernest N. Morial Convention Center in New Orleans, Louisiana.
"The Pick My Solar team is excited to share all that we have built with utility leaders at DistribuTECH 2019." said Max Aram, Co-Founder and CEO of Pick My Solar. "This year our marketplace is expanding to help even more homeowners demystify the solar shopping process and expand to additional distributed energy resources for consumers including energy storage, electric vehicle charging stations, and more."
Improved Solar Calculator, Quote Comparison Tool
This fall, Pick My Solar released it's updated instant solar calculator (https://pickmysolar.com/), complete with LIDAR-based automated shade analysis, 25-year cash flow analysis, and solar viability score. With just an address entered into Pick My Solar's calculator, consumers can instantly know the full economic opportunity of going solar as well as various financing options including a cash purchase, solar loan, or solar lease. Pick My Solar enables consumers to explore what going solar would look like for their home without handing over their contact info to any installers or having to face aggressive sales tactics which have plagued the industry. A full API is available for utilities interested in adding a solar calculator service for their customers.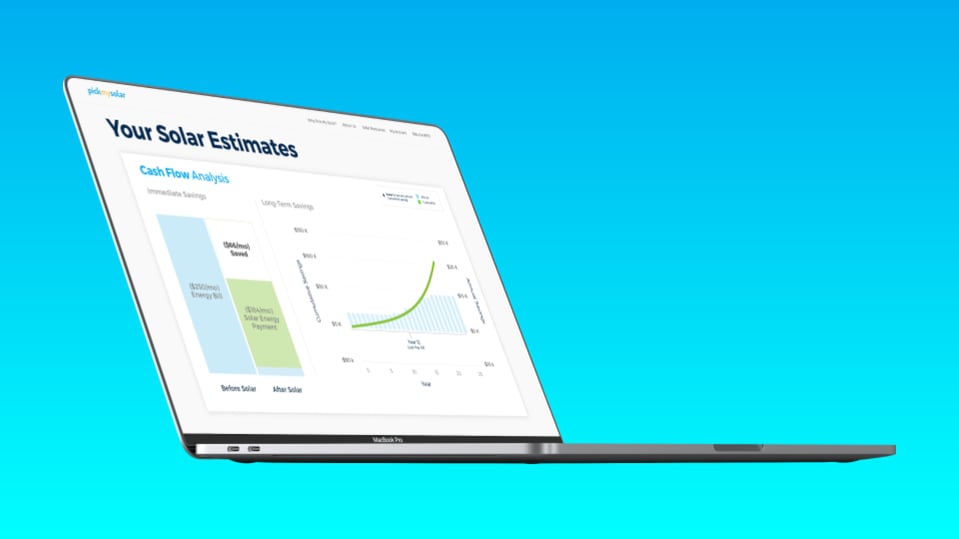 White Labeled Utility Marketplaces
Pick My Solar deployed its marketplace for utilities with a white-labeled solution in 2017 for ConEdison New York (https://marketplace.coned.com/solar) and in 2018 added the Orlando Utilities Commission (OUC) (https://ouc-collective.com/) to assist their customers with the adoption of various distributed energy resources. The feedback from customers has been positive with consumers giving Pick My Solar a Net Promoter Score of +85.
Community Solar Customer Acquisition
Pick My Solar is also demonstrating their new Community Solar platform which they launched in partnership with ConEdison New York in June of 2018. Since then Pick My Solar has assisted thousands of customers in evaluating Community Solar as an option for adding 100% renewable power to their energy supply without needing to install a single panel on their roof. Their Community Solar calculator immediately shows customers the economics of solar projects available for subscription in their area. The Community Solar marketplace is supported by community solar developers who have joined with Pick My Solar to accelerate the customer acquisition process for their projects and allow them to focus on their project development and finance efforts.
If you're attending DistribuTECH 2019, be sure to visit Pick My Solar and explore the utility platform in the Smart Electric Power Alliance Pavilion in the main exhibit hall, booth 614! You can schedule a meeting with Head of Business Development Kyle Cherrick here (https://www.meetingbird.com/l/kyle/distributech)
About Pick My Solar
Pick My Solar is an online solar purchasing marketplace, providing home and business owners with expert advice and high quality custom bids from a national network of highly qualified solar installers. The overarching goal of Pick My Solar is to simplify the solar purchasing process, drive down costs, and provide the consumer advocacy necessary for solar to achieve broad market success. Pick My Solar has won several awards including the Kauffman Foundation's Innovation Award, two U.S. Department of Energy Sunshot Catalyst awards, is a member of the Los Angeles Cleantech Incubator, was named the 2015 outstanding small business in the City of Los Angeles, and named 2016 SoCal Startup of the Year by Startup Grind.
Company Contacts
Utility & Business Development
Kyle Cherrick
kyle@pickmysolar.com
(949) 698-2341
Meeting Scheduler: https://www.meetingbird.com/l/kyle/distributech
Press & Media
Kyle Graycar
Head of Marketing
press@pickmysolar.com
(424) 543-4391